Floor Mounted Jib Crane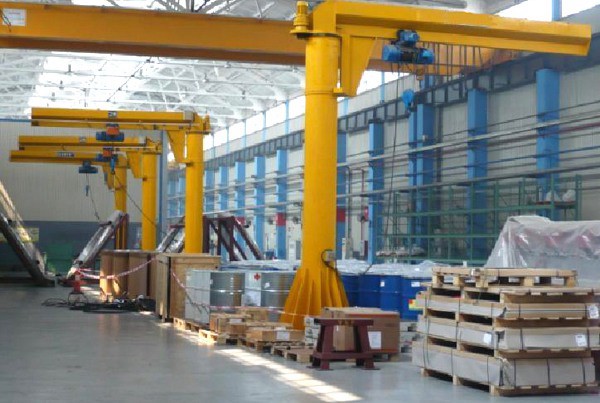 Floor Mounted Jib Crane
BZ-type pillar jib crane is a kind of small and medium-sized lifting equipment,
We're here to help
Easy ways to get the answers you need.
Contact Now
BZ-type pillar jib crane is a kind of small and medium-sized lifting equipment, the complete range is for loads up to 16 tonnes.
BZ can be operated freely in 3D space. So jib cranes are efficient partners performing their tasks reliably in factory.With their comprehensive product line of jib cranes, it offers flexible and cost efficient material handling solutions for any job in the workplace. Our Jib cranes can be individually tailored for your application.
with BZ jib cranes,the lifting is easier, more efficient and safer. Widely used in workshop, warehouse, dock and other fixed places.
Environmental conditions:
1.The power of the crane is three-phase AC, rated frequency of 50HZ, rated voltage of 380V.
2.The altitude of the crane installation site is less than 2000m.
3. Inflammable, explosive and corrosive gases are forbidden in the installation site of the crane.
4. The crane is not allowed to lift the molten metal, toxic and inflammable and explosive materials.
Pillar is made of sturdy, hollow steel sections
Jib arm is made of I-beam or weld steel box, depends on capacity and duty group.
Bolted end connection plate for rapid mounting
Safety anchoring with ribbed pillar base
Low-build profile section jib arm for optimized hook height
Power supply via slip-rings for infinite 360° slewing.
Complete with electrical systems including lockable mains switch and power supply to the hoist
Electrical equipment with class F insulation, protection type IP 54
Operated from floor level via pendant controls
Working with CD/MD electric hoist or chain hoist
Low headroom offers optimal highest hook position
Optional electric slewing gear
Optional electric hoist travel
Optional mobile control (standard with wire rope hoists)
Get Price And Support
Simply complete the form below, click submit, you will get the price list and a representative will contact you within one business day. Please also feel free to contact us by email or phone.