General Electric Hoist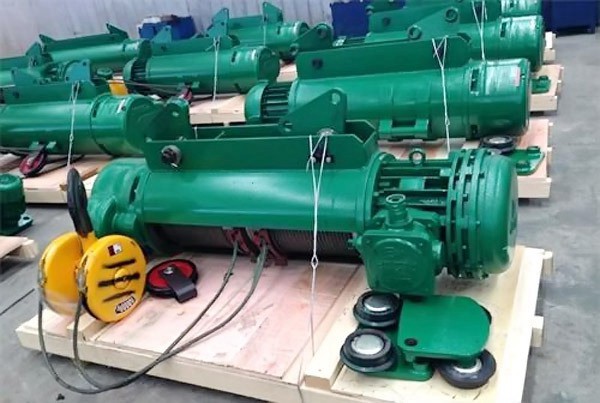 General Electric Hoist
Electric hoist has small volume, light weight, simple operation, convenient use
We're here to help
Easy ways to get the answers you need.
Contact Now
Electric hoist has small volume, light weight, simple operation, convenient use, etc, widely used in industrial and mining enterprises, storage terminals and other places. Lifting weight average of 0.1 ~ 80 tons, lifting height is 3 ~ 30 meters. It is composed of motor, drive mechanism and the drum or sprocket composition, divided into two kinds of steel wire rope or chain. Wire rope electric hoist have model CD1, MD1 type, BCD1 type, BMD1; Usually with brake squirrel-cage conical rotor motor with electromagnetic brake (or another cylindrical rotor motor) drive. Most electric hoist is controlled by people with button on the ground to follow control, or can be in the driver room controlling or use cable (wireless) remote control.
In General
Compact structure, light weight, safe and reliable
Wide used and interchangeable of components
Lifting capacity strong, maintenance easy
Operation easy, lifting stable
Asynchronous Conical rotor motor with brake inside
Large torque, effective braking, compact structure
Stable operation, small size, light weight
Safe usage and easy maintenance
B or F class insulation, IP44, IP54 protection
Asynchronous Conical rotor motor with brake inside
Stable starting, effective braking
Assorted with reducer
B or F class insulation, fully covered
IP44, IP54 protection
IC0141 self-cooling
Three-level dead axle helical gear rotating body, long service life
Gear and the axle made by alloy steel after heat treatment, high intensity
Box and cover made from superior cast iron, fully covered
Great speed ratio, high accuracy
Compact structure, silent operation, high efficiency
Machinery oils
Easy to assemble and disassemble
Welding rope drum, light dead weight
Coil casing made from superior cast iron, high intensity
Rope guide avoids intertwining of wire rope, ensures normal operation
Extend the rope and drum's lifetime
No disturbance between rope socket
Easily interchangeable, high quality
GB/T 20118-2006(6*37+1) hoisting wire rope
Anti-tensile, good flexibility
Good resistance to impact, long lifetime
20 high quality carbon steel
High security, triple static load
Spring-loaded sturdy safety catch, ensuring slings not release safe and reliable
Adjustable mechanical memory structure, high sensitivity
Weight limiting stopper
preventing hook clashing the top
Safe and durable, easy to install and debug
Sensitive reaction, small and exquisite
Preset related data according working condition
Show accurate weight value clearly
Modular, low power design, jam proof
Ensure the safe operation of electric hoist
Long service life of appliance components
Reasonable layout of control cabinet, easy to repair
Protection class IP55
Optional main power source
Safe trolley conductor high conductivity, small pressure drop
Light dead weight, easy to install
Collector ensure continuing power supply
Pendant and remote control
Easy and safe control
Smooth operation
Waterproof Anti Fall
AC 380V, 50HZ, 3P(As your demand)
Get Price And Support
Simply complete the form below, click submit, you will get the price list and a representative will contact you within one business day. Please also feel free to contact us by email or phone.