Steel Structure Wokshop Roof Traveling Crane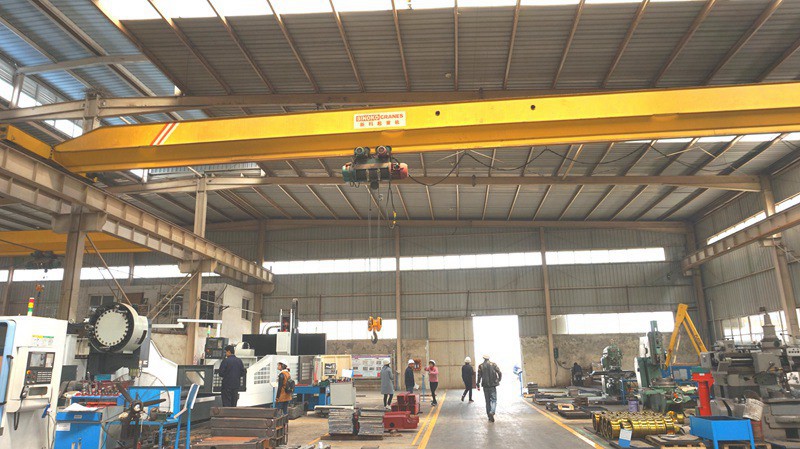 Steel Structure Wokshop Roof Traveling Crane
Steel Structure Wokshop Roof Traveling Crane is most popular lifting equipment for steel structure factory. Good price, easy operation
We're here to help
Easy ways to get the answers you need.
Contact Now
Brief introduction
________________________________________
Model: LDA
Capacity: 3ton,5ton ,10 ton,15ton,20ton,25ton
Lift Height 3m to 30m
Span: Max. to 65m
Duty Class: A3, A4
Power Supply: 380V, 50Hz, 3-phase AC
220V, 6oHz, 3-phase AC
Safety Features
________________________________________
• Emergency stop system
• Limit Switch for Lifting
• Limit Switch for Travelling
• Overload protect device
• High quality buffer
• Current overload protect device
• Voltage Lost protect device
Advantages
________________________________________
• Push button of control: the life can reach 200000 times.
• Electrical adapt as Chint, SIMENS, or Schneider.
• Motor Choose China best motor brand: Nanjing special motor.
• Soft start motor make the traveling smoothly.
• Brake from Jiaozuo brake factory, China best brand.
• LYC bearings which is serve for the the Shenzhou spacecraft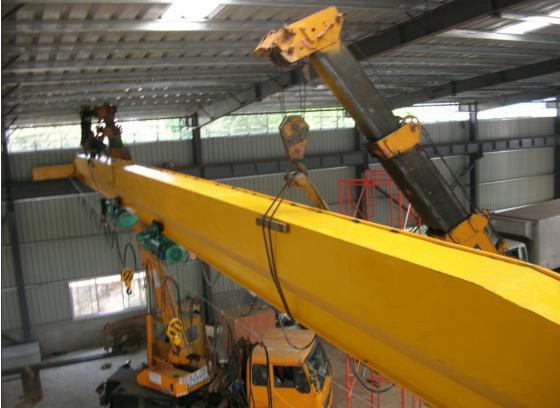 The Single Girder Overhead Crane price,5 ton overhead crane is composed of main beam, end carriage, electric hoist(or you can choose chain block), electric power transmission device and operation room(as your demand).

Single Girder Overhead Crane price,5 ton overhead crane is usually used indoors, such as workshop, plant, stockyard, etc. to lift goods. It is prohibited to use the equipment in the combustible, explosive or corrosive environment.

Regarding the control,There are three control method,Pendent line(included); Wireless remote control,Operation room.
And the operational room which has open model and closed model and can be installed on left or right side according to the practical situation. And the direction of entering has two ways, sideway enterance and end surface enterance,

To guarantee the normal operation of crane and avoid the personal casualty and mechanical damage, the safety device we provide are not only the electric protective devices or alarm bell but also other equipments as follows

1.Weight overload protection device.
2.Top quality long time bearing polyurethane materials buffer.
3.Crane travelling limit switch.
4. Voltage lower protection function.
5. Emergency stop system.
6.Current overload protection system.

Overall Feature:
The machine: Novel structure, attractive appearance and good technics;
Operation: Flexible and smooth, safe and reliable

Mechanical Part:
Crane drive: IP54 or IP44, level F insulation
Double girder, welding box beam, camber meet national standard;
Main and end girder connected through level 10.9 high-strength bolt
Efficiency brake, long life
Adopt high quality carbon steel, Q235B or Q345B;

Electric Part:
Security trolley line or angle steel trolley line
The power supply of Travelling trolley adopt flat cable
Smoothly sliding, overall nice

Controlling Ways:
Ground controlling and cab controlling
Operating cab: open style and close style, left or right installation
Direction of entrance: side, end and top
Choose according to customer's different requirement

Alternative Functions:
Speed regulation of each operating mechanism (1:10 or more)
Overload limitation, alarm display, load weighting and display
Hook distance changes of main and auxiliary hook
PLC Controller, fault detecting, display record and print system

Safety Protection:
For outdoor crane, should equipped with hoist mechanism, electrical box and rain cover of driving mechanism
Install collision prevention device and sound & light alarm device

Get Price And Support
Simply complete the form below, click submit, you will get the price list and a representative will contact you within one business day. Please also feel free to contact us by email or phone.