Steel Mill Used High Quality Single Girder Overhead Crane with Electric Hoist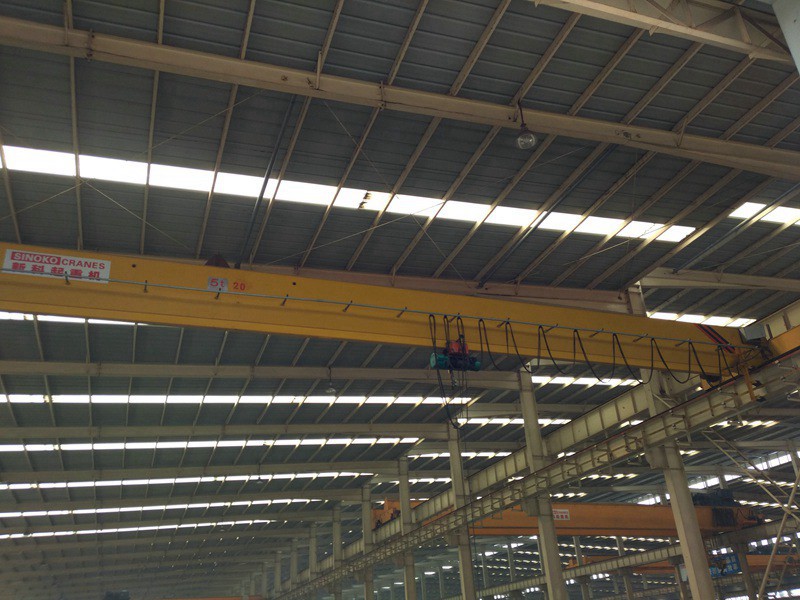 Steel Mill Used High Quality Single Girder Overhead Crane with Electric Hoist
LD Type single girder electric overhead traveling crane has the advantages of rational structure and strong rigidness of whole unit which will be used together with electric hoist in the operation.
They are applicable to the transfer assembly, check and repair as well as load and unload at mechanic processing workshop, subsidiary workshop of metallurgical mills, warehouse, goods yard and power station.
We're here to help
Easy ways to get the answers you need.
Contact Now
China standard single girder overhead crane is widely used in factory , workshop, warehouse and cargo yard,
forbid to be used in corrosive and explosive places.
This model of single girder overhead crane is very popular because of the reliable price and easy maintainance.
This crane belongs to light duty crane, can be used with single or double speed lifting hoist.
If the workshop clearance height is limited, the top running type overhead crane is recommended to save the above clearance space and below lifting height.

Working temperature: -25°C ~ +40°C.
Lifting capacity: 0.25-20ton
Span length: 7.5-32mtrs
Lifting height: 6-30mtrs
Working duty: Class A3
Power: AC 3Ph 380V 50Hz or according to client's requirement
Control mode: Cabin control/remote control/control panel with pendant line

Weight overload protective device
Top quality polyurethane buffer
Crane traveling limit switch and lifting limit switch
Low voltage protection function
Emergency stop system
Laser anti-collision system

Advantage:
1. Overload protection: If the material is over the capacity, the crane will give a sharp warning for protection itself.
2. Emergency brake: If the operation staff encounter some emergency situation, we could start the emergency brake system to protection the related treasure.
3. Control Method: Room control or remote control to avoid any injure to the operation staff
4. Main lifting motor: with thermal protection and currency protection.
5. Hooks with latch
6. Rubber buffers
7. Protective earthing
8. Crane switch and travel end switch
9. Sub-assemblies characteristic are tested before assemly.
10.All cranes must be pre-assmebled and tested before leaving factory and offer the certification of test.
| | |
| --- | --- |
| Item | Single Girder Overhead Crane |
| Model | LD |
| Span | 7.5m~28.5m |
| Lifting Height | 6m~30m |
| Max. Lifting Load | 20 tons |
| Rated Lifting Moment | 400KN |
| Rated Loading Capacity | 1t~20t |
| Working Grade | A3/A4 |
| Power Source | 380V 50HZ 3phase |
| Working Temperature | -25ºC~+40ºC |
| Color | Customized |
| Application | Metallurgy, power generation, machinery, mining, port, petrochemical |
| Certification | ISO, CE, SGS |
| OEM & ODM | Accepted |
Get Price And Support
Simply complete the form below, click submit, you will get the price list and a representative will contact you within one business day. Please also feel free to contact us by email or phone.