Work Shop Used Double Girder Electric Hoist Travelling Overhead Crane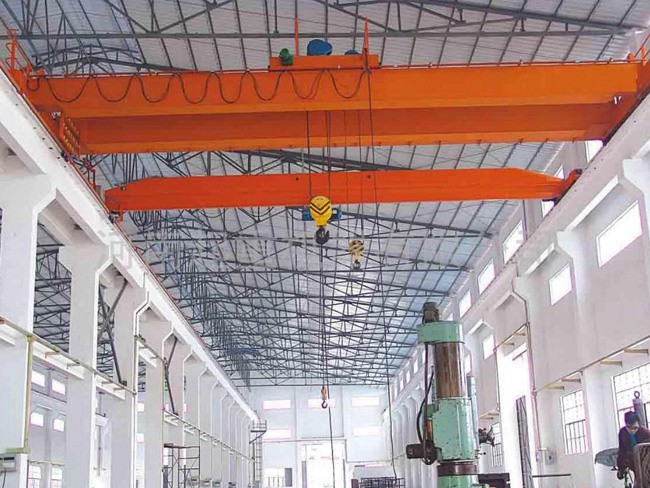 Work Shop Used Double Girder Electric Hoist Travelling Overhead Crane
LH electric hoist bridge crane with hoist lifting trolley, using thebox girder bridge. crane drive mode use three in one model, with compact dimensions, low building height clearance, light weight , small size, simple structure. Suitable for mechanical processing workshop, metallurgical plant auxiliary workshops, warehouses, material, power plants and other transport, assembly, maintenance and handling operations
We're here to help
Easy ways to get the answers you need.
Contact Now
Overview
LH electric hoist bridge crane with hoist lifting trolley, using thebox girder bridge. crane drive mode use three in one model, with compact dimensions, low building height clearance, light weight , small size, simple structure. Suitable for mechanical processing workshop, metallurgical plant auxiliary workshops, warehouses, material, power plants and other transport, assembly, maintenance and handling operations; it can replace the ordinary double-beam bridge crane, used in the production workshop textile industry and food industry . Its work is light and mid-level class type, the working environment temperature -25 ºC -40 ºC, and it's prohibited the use of flammable, corrosive media environments.
This product has operations of pendant, remote or cabin. Left or right door opening can be divided into two types according to the actual installation situation. To meet the user in different situations to choose.
Lifting height limit device
Voltage lower protection function
Phase sequence protection function
Emergency stop function
Hooks with latch
Rubber buffers
Laser anti-collision system
Advantage:
1. Overload protection: If the material is over the capacity, the crane will give a sharp warning for protection itself.
2. Emergency brake: If the operation staff encounter some emergency situation, we could start the emergency brake system to protection the related treasure.
3. Control Method: Room control or remote control to avoid any injure to the operation staff
4. Main lifting motor: with thermal protection and currency protection.
5. Hooks with latch
6. Rubber buffers
7. Protective earthing
8. Crane switch and travel end switch
9. Sub-assemblies characteristic are tested before assemly.
10.All cranes must be pre-assmebled and tested before leaving factory and offer the certification of test.
Rated lifting weight

t

32/10

20/5

16/3

10/3

5

manipulation mode

ground control; control room

Speed

Main hook lifting

m/min

3(0.3/3)

3.3

3.5(0.35/3.5)

7(7/0.7)

8(8/0.8)

Secondary hook lifting

7(7/0.7)

8(8/0.8)

8(8/0.8)

8(8/0.8)

Trolley traveling

20

20

20

20

20

Cart traveling

ground

20;30

20;30

20;30

20;30

20;30

control room

30;40

30;40

30;45

30;45

30;45

electromotor

Main hook lifting

Model/kw

ZDX62-6/18.5 ZDS

1

2.2/18.5(main engine Six grade motor6)

Secondary hook lifting

(ZDS0.4/4.5)

(ZDS0.4/4.5)

Trolley traveling

Cart traveling

ground

control room

ZDR125-4/4.6×2

ZDR100-4(D)1.5×2

ZDR100-4(D)1.5×2

Electric hoist

WH164; CD1(MD1)

CD1(MD1)

Lifting height

m

9;12;18;24

6;12;18;24

9;12;18

9;12;18;24

6;9;12;18;24

Working system

A3~A5

Power

three phase current;50HZ;380V

Cart track recommended

43KG/M

38KG/M

Span

m

7.5m~22.5m
Get Price And Support
Simply complete the form below, click submit, you will get the price list and a representative will contact you within one business day. Please also feel free to contact us by email or phone.