Steel Structure Factory Overhead Crane 10 ton 15 ton 20 ton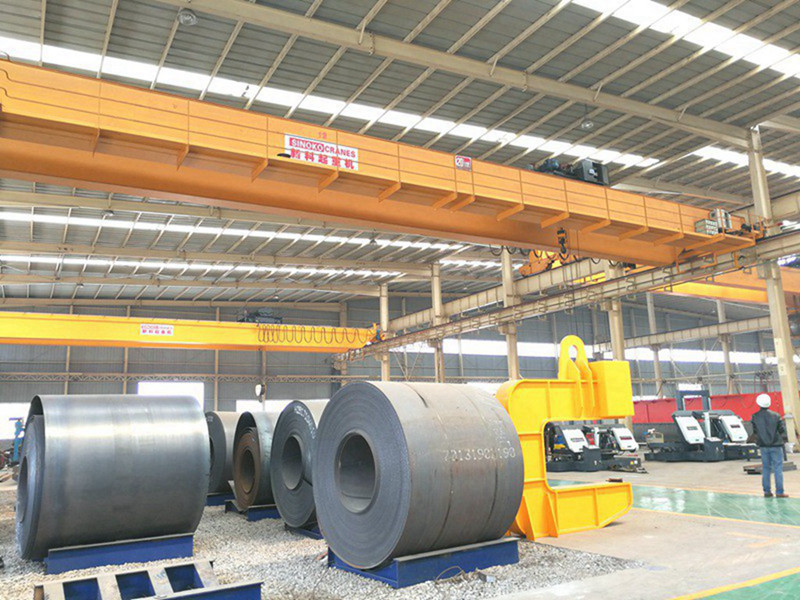 Steel Structure Factory Overhead Crane 10 ton 15 ton 20 ton
Sinokocrane could make overhead crane widely used for steel structure workshop. No matter which kind of steel structure workshop, we can make best overhead crane solution.
We're here to help
Easy ways to get the answers you need.
Contact Now
I. Brief Introduction of CXSM European Double Beam Open Winch Electric Overhead Crane
This series crane is new type of crane made by employing import configuration, new material and technology and has features in light weight, generalizing, energy conservation and environmental protection, maintenance free and high technology content.
The hole crane is main consists of the double main beams, two end beams, trolley, electrical parts.
II. Crane Features of Double Beam Open Winch Electric Overhead Crane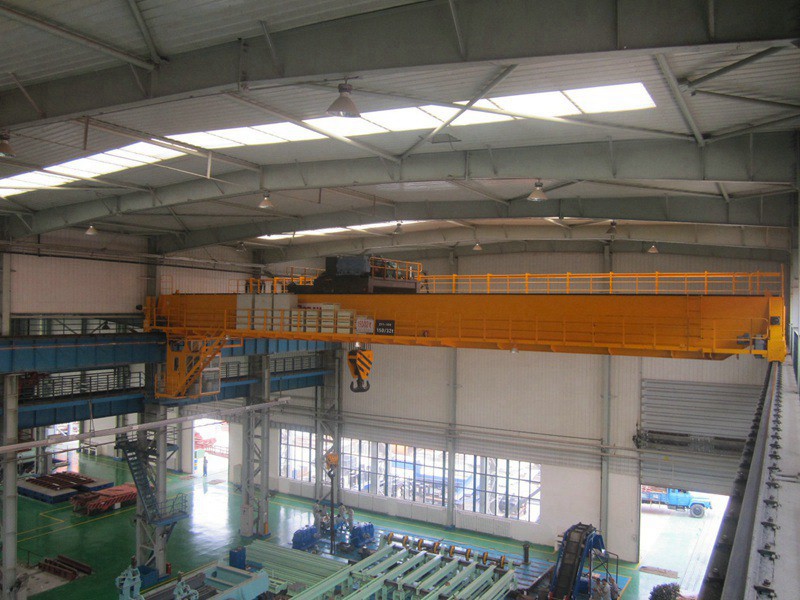 1. Main beam structure
1) Main beam use bias-rail box type structure, with optimized design and light self-weight.
2) The welding of main beam should be performed on working platform. In order to avoid distortion of main beam, our company adopts U-shaped main beam assembly machine with hydraulic forming which has won national patent ensuring that vertical deflection degree between joint edge of stiffened and web plate and upper cover cover should not more than H/200, and also efficiently reduce the partial wave of web plate.
3) Layout repair walkway on the drive sides of crane along the direction of main beam.
2. End beams
1) Material of end beam uses Q345B steel.
2) End beam is made of rectangular steel pipe or steel plate by welding, the finished end beam get once positioning processed on numeral control machine in order to ensure dimension accuracy and fit tolerance.
3) Each end beam is supplied with wheels with double wheels with double wheel rim, buffer and anti derailing protection device.
3. Connection of main beam and end beams
Connect main beam with end beam through bolts with end beam through bolts with high strength ensuring precision and smooth running of crane.
4. Conductive frame of crane and trolley
Conductive frame employs modular design and which consists of U-shaped bolt, connecting plate and rectangle pipes, the length and height can be arbitrarily regulated as well as easy installation.
III. Electric Protection of European Double Beam Bridge Crane
It has complete equipments including main isolation switch, emergency disconnect switch, protection for short circuit, pressure loss, zero position , excitation loss, over current and over speed, which sufficiently implements conception of safety first
IV. Control methods for us to choose:
Control methods

Advantages

Pendent control

A. Easy operation when observation.
B. Convenient to communication with other workers

Wireless remote control

A. Greatly improved the work efficiency.
B. Keep the operator from danger.

Cabin operation control

A. High grade steel plate adapted for cabin structure
B. Big Toughened Glass around, good view for operation
C. Lower noise, more safety performance
V. Technical parameter
Capacity
(t)

Span
(m)

Lifting height(m)

Lifting speed
(m/min)

Max. wheel load
(KN)

Total power
(KW)

Total weight
(T)

5t

10.5-31.5

9

5/0.83

36.8-74.2

5.5-7.2

3.9-19.6

10t

10.5-31.5

9

5/0.83

64-108.6

10.5-12.2

5.8-20.8

16t

10.5-31.5

10

5/0.83

100-128

18.1-19.5

6.8-25.8

20t

10.5-31.5

10

5/0.83

112-86.6

21.1-24.9

7.4-28.3

25t

10.5-31.5

10

5/0.83

150-102.2

21.5-25.3

9.3-30.2

32t

10.5-31.5

9

4/0.67

191-128.8

29-30.4

10.2-32.8

40t

10.5-31.5

9

3.2/0.5

232-146

29-32.8

11-35.1

50t

10.5-31.5

9

2.5/0.4

142-180.5

31.2-33.6

12.9-42.6

63t

10.5-31.5

9

2.5/0.4

179-220.5

42-43.2

14.3-46.9

80t

10.5-31.5

9

2/0.3

225-267

42-43.2

17-50.3
Get Price And Support
Simply complete the form below, click submit, you will get the price list and a representative will contact you within one business day. Please also feel free to contact us by email or phone.