A Shape Double Girder Gantry Crane Manufacturer
A Shape Double Girder Gantry Crane Manufacturer
This gantry crane is widely used together with winch or trolley for lifting device. It is a medium and heavy size crane which travels in track. Structure: main beam, support legs, crane traveling organ, trolley, electric equipment, strong lifting winch

We're here to help
Easy ways to get the answers you need.
Contact Now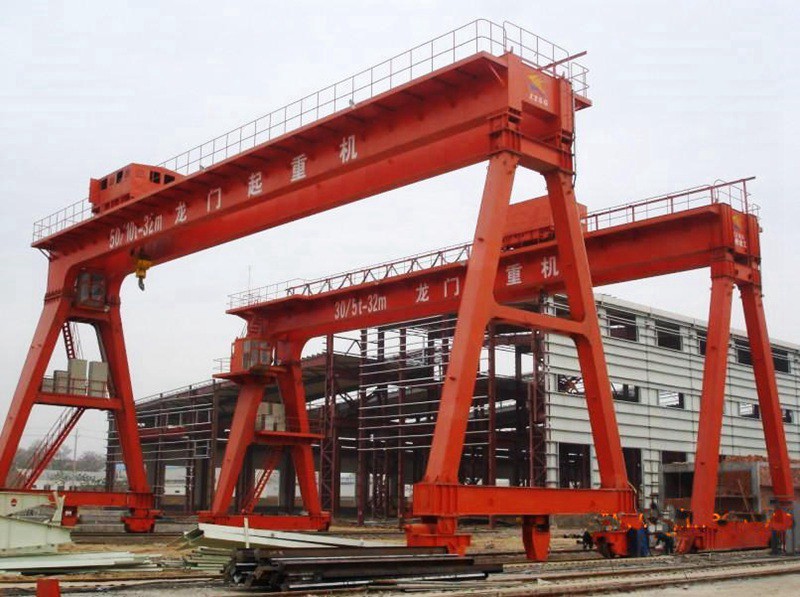 Double Girder Gantry Crane Specification:
1. Capacity: 5 to 80tons
2. Span: 18 to 40 meters.
3. Working class: A5, A6, A7.
4. Working temperature is -20--+40 centigrade.
5. Control methods: ground or cabin control.
I. Double Girder Gantry Crane Introduction:
1. This gantry crane is widely used together with winch or trolley for lifting device.
2. It is a medium and heavy size crane which travels in track.
3. Structure: main beam, support legs, crane traveling organ, trolley, electric equipment, strong lifting winch
4. Power is supplied by cable or slide wire.
5. It is prohibited for lifting melt metal, flammable, explosive, corrosion, overloading, dust and other dangerous operations.

II. Double Girder Gantry Crane Application:
workshop, storage, port and hydroelectric power station and some other outdoor place, where it has a high frequency or more lifting times.

III. Double Girder Gantry Crane Environmental Conditions:

1.The temperature in the working environment should be in the scope of -20DC to 45 DC and the relative humidity is not higher than 95%(with dew).
2.During work, the wind speed should be no higher than 20m/s; and during non-work, the wind speed should be no higher than 44m/s.
3.The crane travelling lane is supposed not to slope more than 1% and no more than 3% for local slope. The ground slope on the two sides of the span should be in the same direction, that is to say, both upslope or downslope at the same time.

IV. Double Girder Gantry Crane Detailed description:
Main beam

High technique, torsion-free box girders, no welding one whole type, strong and beautiful.

Electrical parts:

Siemens brand/Schneider brand

Motors

Frequent starting , reversing & braking, dust proof construction foot / flange mounted TESC / TEFC , Sq. cage motors with integrated safety brakes, insulation class F, IP54 protection for hoisting, CT & LT motions.

Brakes

Independent Hydraulic Brake

Gear Box

Accurate hob cut helical / spur gears & pinions having hardness 250 to 350 BHN made from carbon alloy steel, smooth operation & long life, can equipped with SEW/ABB brand high quality gear box

Electrical Panel

Modular design, ease to install and maintain, reliable operation, fuses less circuitry, ducted wiring and compact terminals. Motor overload protection to prevent overloading
If cabin control, it can be equipped with Air-conditioning and with easy and convenient control panel.

Limit Switch

Safety limit switches for stoppers will be provided to prevent over traveling in all motions

Safety feature

Overload protection. Main lifting motor with thermal protection. Hooks with latch. Rubber buffers. Protective earthling. Crane switch and travel end switch. Emergency switch can stop all movement when any dangerous happened. Sub-assemblies characteristic are tested before assembly. All cranes must be pre-assembled and tested before leaving factory and offer the certification of tes
Technical Parameter for A shape double girder gantry crane manufacturer
Lifting Capacity

T

16/3.2

20/5.0

32/8.0

50/10.0

75/20.0

Span

M

18-35

Max. Lifting Height

Main hook

M

10/12

Aux hook

10.6-12.6

10.6-12.6

10.7-12.7

11.1-13.1

11.1-13.1

Working System

A5

Speed

Hoisting

Main

m/min

15.3

15

13.2

5.9

6.25

Aux

22

19

17

13.2

9.28

Trolley Travelling

44.7

44.7

38.6

36

38.9

Crane Travelling

30-35

34.5-32.9

52.53

45-38.6

38.5-32.6

Weight

Trolley

t

7.1

8.1

11.7

16.8

29.4

Total Weight

92-142

105-148

92-142

111-156

189-245

Max. Wheel Load

275-369

341-435

275-369

392-483

314-361
Kindly please provide the following information when sending enquiry to us.
1. Lifting capacity ______ton
2. Span _______meters (it is center to center distance between railways)
3. Lifting height ______meters (it is the distance from center of hook to floor)
4. Travelling length _____meters
5. Is the cantilever needed for the gantry crane? If yes, how long is it? Is it needed for one or two sides?
6. Industrial voltage _____V, _____HZ, 3Phases
7. Control mode
A. pendant control B. remote control C. cabin control
8. Do you also need us to supply rail and bus bar?
A. Yes B. No
9. What is the main lifting material?

Get Price And Support
Simply complete the form below, click submit, you will get the price list and a representative will contact you within one business day. Please also feel free to contact us by email or phone.