Light Type Double Girder China EOT Crane with Electric Hoist Trolley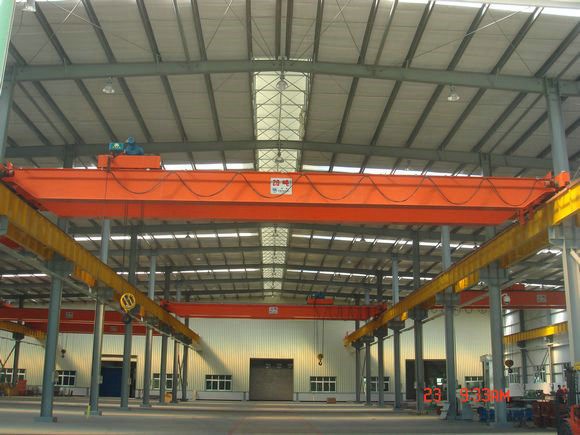 Light Type Double Girder China EOT Crane with Electric Hoist Trolley
1) LH Type double girder overhead cranes are the ideal solution for the area coverage handling of heavy loads from 5t up to 32t.
2) Like other kind of factory cranes, these cranes are available with installation on the new or existing buildings and the best in functionality, versatility and convenience.
3) With advantages of compact structure, light dead weight, maximum lifting height, these cranes are widely used in workshop, metallurgical mills, warehouse, assembly shop etc.
We're here to help
Easy ways to get the answers you need.
Contact Now
2. Limit Switch

Smooth traveling and lifting work,
Low Dead Weight
Low Noise
German Quality, Safety and Durable

Safe Limit Switch for Lifting and Traveling
Incase of load crash the top of lift mechanism
Incase of trolley or Crane crash to the end of track.

3. Small and high strength Wheel

4. Aviation Revos

Small euro-type wheel help lowen the whole dead weight of the overhead crane
Advanced Wheel shape design lower the noise and make the traveling more smoothly

With this Aviational Revos, the Electrical box has a higher protect class, Safety and Reliable

5. Hook

DIN standard hook with block
High strength and with cover, Beautiful and pratical
Safety features of China EOT crane
1.Overload warning and limiter
2.Lifting height limit device
3.Voltage lower protection function
4.Phase sequence protection function
5.Emgergency stop function
6.Hooks with latch
7.Rubber buffers
Lifting Capacity(T)

5

10

16/3

20/5

32/10

Speed

Main hook Lifting

8 ,(8/0.8)

7,(7/0.7)

3.5(3.5/0.35)

3.5

3,(3/0.3)

Aux. hook Lifting

/

/

8,(8/0.8)

8,(8/0.8)

7,(7/0.7)

(m/min)

Hoist trolley traversing

20

20

20

20

20

Crane travelling

Floor control

20,30

20,30

20,30

20,30

20,30

Cabin control

45,60

45,60

45,60

45,60

45,60

Lifting height(m)

6,9,12,18,24,30

6,9,12,18,24

Span(m)

7.5,10.5,13.5,16.5,19.5,22.5,25.5,28.5,31.5

Working duty

A5

Power supply

380V 50HZ three phase or according to your demand

Width of rail(mm)

50,60,68,70

(depending on the span and lifting weight)
Get Price And Support
Simply complete the form below, click submit, you will get the price list and a representative will contact you within one business day. Please also feel free to contact us by email or phone.