Steel Scrap Gantry Crane for Scrap Steel Loading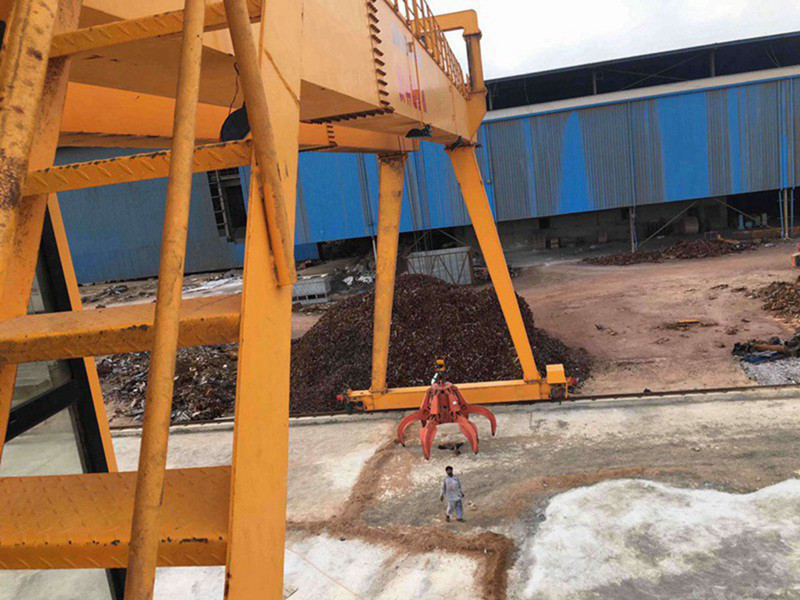 Steel Scrap Gantry Crane for Scrap Steel Loading
1. Overload protection.
2. Main lifting motor with thermal protection.
3. Hooks with latch.
4. Rubber buffers.
5. Protective earthing.
6. Crane switch and travel and end switch

We're here to help
Easy ways to get the answers you need.
Contact Now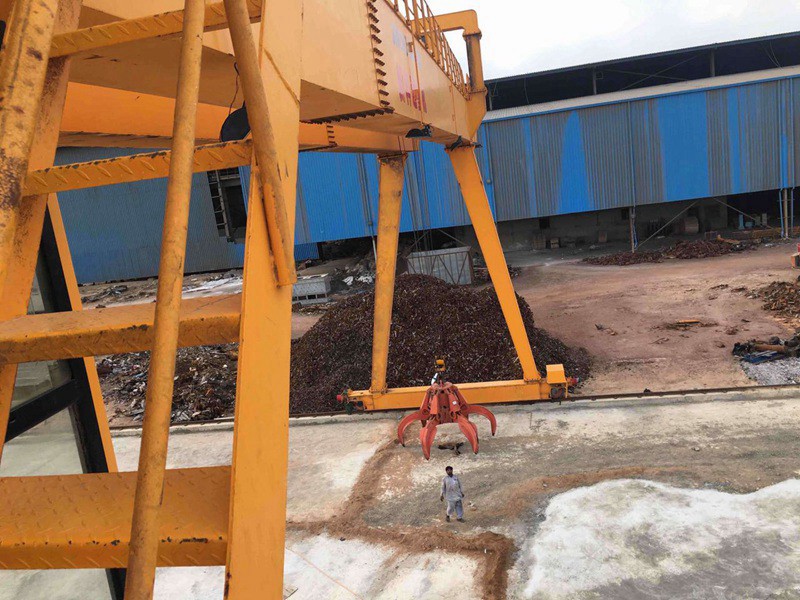 Overview of Steel Scrap Gantry Crane
This is a double girder type Steel Scrap Gantry Crane for outdoor scrap yard use. In many steel plants, the raw material are steel scrap such as HMS and LMS. These raw material need to be processed to be more regular size or shape before being charged into furnace. So this type of gantry crane is used for scrap handling in the scrap yard.
The girders and frame are welded structure without weld joint and high degree of vertical and horizontal rigidity. The lifting mechanism is electric trolley, it can equip with hook and other tools to lift containers. Some rail, gear, wheel relevant parts with good quality manufactured by our own group, the quality is easily been controlled.
Normally, the gantry crane will be equipped with electric-hydraulic grab or magnets. Grab is used to handle scrap from the stacking yard to shearing machine; magnet is used to handle shredded scrap from yard to truck or transferring trolley to melting workshop.
Features Gantry Crane for Scrap Steel Loading:
1. Overload protection.
2. Main lifting motor with thermal protection.
3. Hooks with latch.
4. Rubber buffers.
5. Protective earthing.
6. Crane switch and travel and end switch
7. Emergency switch can stop all movement when any dangerous happened.
8. Sub-assemblies characteristics are tested before assembly.
9. All cranes must be pre-assembled and tested before leaving factory and offer the certification of test.
Specification of Scrap Yard Steel Scrap Gantry Crane


Capacity(t)

5t--10t

16t---25t

32t--50t

75t--100t

Span(m)

10m---50m

Lifting height(m)

6m---30m

Control mode

Pendant control, wireless remote control, cabin control

Lifting speed(m/min)

6,7,8,9,10,12

1,2.4,3,4,5,6

Travelling speed(m/min)

20,30,45,54,60,75(can add Inverter)

Service class(work grade)

a)A3: used in places of mild service, such as workshop and warehouse.
b) A4: used in places of Medium service such as assembly and depot.

c) A5: used in places of medium service, such as machine and assembly shops
d) A6: used in places of frequent working such as metallurgy and casting shops

Cantalever

One side or two side cantilever

Supply power(three phase power)

380V 50HZ 3Phase (according to user require)

Hoist type

Winch trolley and Hoist trolley, single or double speed

Working ambient temperature

-20 °C~+45°C.

Note

It's not suitable for lifting blazing & melting metal or toxicant as well as explosion-proof or insulating working conditions.
Get Price And Support
Simply complete the form below, click submit, you will get the price list and a representative will contact you within one business day. Please also feel free to contact us by email or phone.