Steel Plant Foundry Crane for Steel Making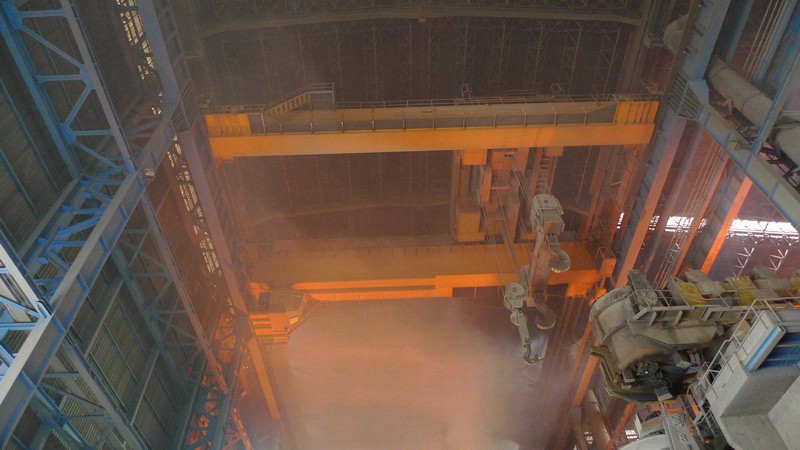 Steel Plant Foundry Crane for Steel Making
YZS is the general model name for ladle crane whose capacity is more than 74ton and need strong four beams design. The maximum capacity can be up to 450ton. We take care of every details to guarantee that sinokocranes support our clients by the excellent performance of its cranes.
We're here to help
Easy ways to get the answers you need.
Contact Now
Description of Steel plant Foundry Crane

Lifting mechanism: consisting of two motors, two floating shafts, two reducers, four electro-hydraulic brake units, wore rope drum, wire rope, hook assembly and fixed pulley assembly.
A. lifting motors need to consider not only heat and overload requirements but also the special working condition of casting and metallurgy. The total power shall reach 1.54 times of static power, thus, when one motor is out of order, another one can workshop in a short time for emergency to finish one working cycle.
B. Lifting reducers utilize special hardened teeth surface type, which adopt welding shell. The performance is better than common use crane middle hard teeth surface reducer. It is designed and manufactured exclusively for metallurgy casting ladle handling crane.
C. The connection between reducer and drum is through drum coupling. Each lifting mechanism uses two sets of independent winded wire rope to ensure ladle can land on the ground steady even one rope or two ropes on diagonal line break. The rope structure adapts left and right cross winding, line contact type with high quality steel core, safety factory strictly comply with China Crane Design Regulations.
D. Sensor is located under fixing pulley of main lifting mechanism. Operator control cabin is equipped with alarm device for overload warning. It will give an alarm when load reach to 90% of crane rated capacity; cut off the power when 105% load.
E. Auxiliary trolley lifting mechanism: consisting of two motors, two floating shafts, two reducers, four electro-hydraulic brake units, wore rope drum, wire rope, hook assembly and fixed pulley assembly.
Trolley travelling:

A. Main trolley travelling use separate drive, which consists of motor, coupling, electro-hydraulic brake, hardened teeth surface reducer, active wheel unit, passive wheel unit. Wheels use double flange structure.
B. Auxiliary travelling adopt centralized driving, which consists of motor, coupling, electro-hydraulic brake, transmission shaft, reducer, active wheel unit, passive wheel unit. Wheels use double flange structure.
Crane beam feature: The pulleys on crane beam are covered by fully enclosed protective housing. Insulated layer and device are added under the beam above the ladle to suit the heat condition. Ladle hook use laminated type, cut and formed by CNC, avoiding sharp corner and small ground corner with stress concentration. It has a elegant and strong appearance. The steel element of hook is 16Mn
Long travelling mechanism:
A. Crane long travelling mechanism has a driving type of 12 wheels (YZ100/32ton use 8wheels). Consisting of motor electro-hydraulic brake, cardan shaft, hardened teeth surface reducer, wheel unit.
B.Wheel adopt double flange structure.
C.Long travelling buffer uses sleeve-spring type or steel type hydraulic buffer.
Centralized lubricating system:
Centralized lubricating system is used to reduce maintenance workload, spreading on long travelling, main trolley and aux trolley mechanism.
Control Cabin:
Cabin is protected by double heat insulation layers, closed type, good view, added a radiation protection board underneath the cabin. The window uses tempered glass and sliding type to protection and easy to clean; joystick control desk inside, comfortable chair and easy control; Industry level air cooler; 220V power source with 2 phase and three phase socket; insulating wooden floor; fire extinguisher inside. Walkie talkie and speaker for safe communication during operation.
Components and parts selection:
Main lifting motors use YZR-C series metallurgical and lifting three-phase asynchronous motor with overspeed switch at the tail. Insulation class H, IP54 protection class. This type motor has large over load capacity and high mechanic strength, suitable for frequent starting, braking, overloading and obvious vibrating and compacting equipment. For motor selection, we stick strictly to the design regulation and user's special working conditions.
Brake:
It is electro-hydraulic push normal-closed type. It has features such as safe and steady running, steady and smooth lowering, long life service, easy maintenance. The technology meets National Standard GB6332-86 Bloke Type Brake Manufacturing.
The reducers for lifting mechanism are from China famous brand factory, specially made for metallurgy industry, special welding shell. Gears use superior quality low carbon alloy steel; carburized, quenched and gear grinded, high teeth surface hardness, high gear precision, compact structure, high bearing capacity, long service life, etc.
Pulley:
Movable pulley and fixed pulley use sealed rolling pulley with rolling bearing and without inner axle sleeve. Each pulley plate correspond one oil filling port. Rolling pulley comply with JT5028-90 Rolling Pulley Standard specified China national communication and transportation industry. The material shall not be lower than Q235B steel specified in GB700 regulations. 16Mn alloy steel also available as customer required. Rope groove section meets the 1 class precision regulation specified in ZBJ80006.10-87 standard. Ra Value is 6.3.
Safety protection of Molten Steel Handling Ladle Overhead Crane:
To ensure crane's safe operation, limit switches are equipped on each mechanism. When mechanism travels to pointed position, the limit switch is triggered. The power is cut off and brake is closed, travelling stopped. For convenience of operator and maintainer, passageway of 500mm are required between cabin and bridge beam.
Our cranes are designed strictly according to China Crane Design Regulations. For ladle crane, its utilize class is U6, that is, the total working cycle above 1x106 times. Each mechanism working class must be higher than M6.

1. Power distribution protection
2. short-circuit protection
3. overload protection
4. no-voltage protection
5. zero position protection
6. lifting limit protection
7. travelling limit protection
8. Emergency power off protection
9. over speed switch
Lifting Capacity

T

125/32

140/32

160/32

180/50

200/50

225/65

240/80

280/80

320/80

Span

m

19

19

27

28.5

28

27

22

22

24.5

Speed

Main Hook

m/min

7.8

9.8

7.5

6

11

7

12

7.5

7.6

Aux. Hook

9.7

12

10

10

11

9.6

10

10

9.7

Main Trolley

36

43.5

40

41

41

35

40

29

38

Aux. Trolley

37.5

43.5

38

38

39.5

38

40

39

39

Traveling of Crane

73

84

80

78

84

80

80

58

76

Max wheel pressure

KN

505

535

485

525

530

550

545

735

750

Steel track recommended

QU120

Operational Model

Cabin; remote control

Working class

Power Supply

Three-phase A.C. 380V, 50Hz or your requirement
Get Price And Support
Simply complete the form below, click submit, you will get the price list and a representative will contact you within one business day. Please also feel free to contact us by email or phone.