Sinoko 50t double beam bridge crane
Sinoko 50t double beam bridge crane
QD electric double beam heavy duty bridge crane is widely used for lifting machinery currently
We're here to help
Easy ways to get the answers you need.
Contact Now
QD electric double beam heavy duty EOT crane is widely used for lifting machinery currently. It is mainly comprised of box-shape Bridge, crane crab trolley traveling mechanism and electric control system. The load handling devices is the hook.
On the beam laid rails for crane crab to transversely move. The beam is weld with the box-shaped end beam. At the middle of the end beam are joints which are fastened with bolts for fragmented transportation of bridges. The platform is used to place trolley traveling mechanism, electric equipments and used for repair.
It has three operation modes: ground handle, wireless remote control and cab. There are two kinds of cab: open cab and closed cab, where there is adjustable seat, insulation mat on the floor, tempered glass for the window, fire proof, cooling fan and auxiliary equipments such as air conditioner, acoustic alarm and interphone which can be furnished according to user demand.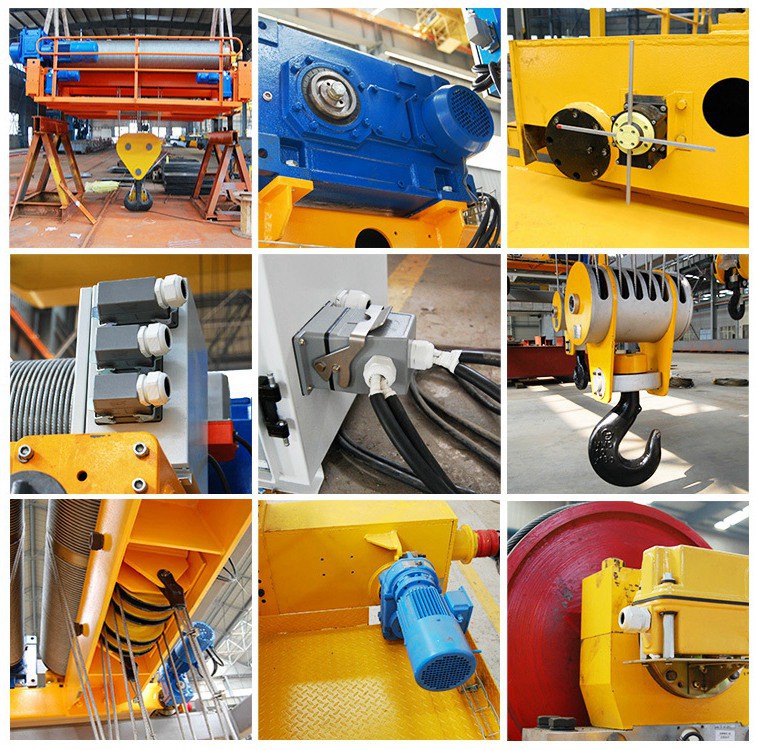 The crane can be furnished with load handling devices such as motor grab, magnet chuck to meet the requirement of hoisting various types of materials.
The crane, of a classification group of A3~A7, has a commonly used lifting load of 125t~250t, so that it is suitable to work in factories, warehouse and freight yards where the ambient temperature is -10~40 degree and the relative humidity is not more than 85%. It is prohibited to work in the environment with inflammable, explosive and corrosive gas.
1. Good reliability, high stability SINOKO bridge crane components of the system are all standard modules, ensure high-efficiency, high-quality function.
2.Favorable performance
3.Smooth starting and stopping
4.Safe and reliable traveling
5.Low noise, commodious cabin and good view
6.Convenient maintenance, excellent exchangeability for parts and components
7.Energy saving,reduce energy consumption
8.Using transducer for travelling or traversing crane to realize step speed or stepless speed change
9. Primer and finishing paint
Capacity(t)

5t--10t

16t---25t

32t--50t

75t--100t

125t---300t

Span(m)

10.5m---35.5m

Lifting height(m)

6m---30m

Control mode

Pendant control, wireless remote control, cabin control

Lifting speed(m/min)

6,7,8,9,10,12

1,2.4,3,4,5,6

Travelling speed(m/min)

20,30,45,53,60,75(can add Inverter)

Work duty

a) M3: used in places of mild service, such as workshop and warehouse.
b) M4: used in places of Medium service such as assembly and depot.

c) M5: used in places of medium service, such as machine and assembly shops
d) M6: used in places of frequent working such as metallurgy and casting shops

Supply power(three phase power)

380V 50HZ 3Phase (according to user require)

Hoist type

Hoist trolley,single or double speed

Working ambient temperature

-20 °C~ < 55°C.

Note

It's not suitable for lifting blazing & melting metal or toxicant as well as explosion-proof or insulating working conditions.
Get Price And Support
Simply complete the form below, click submit, you will get the price list and a representative will contact you within one business day. Please also feel free to contact us by email or phone.