32ton Scrap metal magnet lifting double beam bridge crane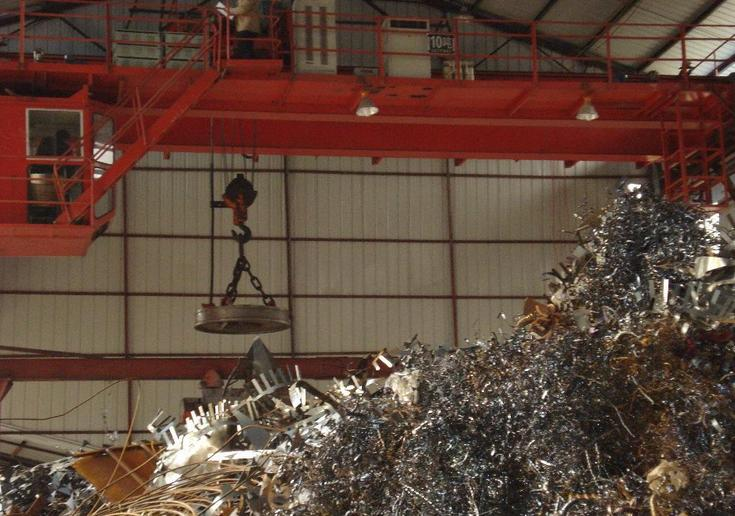 32ton Scrap metal magnet lifting double beam bridge crane
Widely used in metallurgy industry, mining industry, machinery industry and transportation industry etc
We're here to help
Easy ways to get the answers you need.
Contact Now
Lifting Electromagnet is a kind of special equipment which utilizes the electric & magnetic physical quantity to lift attached materials, and became an indispensable for lifting and transporting ferromagnetism materials in lines of metallurgy, mine, machinery, shipbuilding and transportation, etc., and it can also be used as electromagnetic manipulator, magnetic force centering, bar length fixing and so on in some fields.

As the lifted materials are diverse, the electromagnet structure, magnetic circuit and manufacturing process are also different, so there are many series of strong targeted products.

It can load & unload steel scraps efficiently at narrow trunk-shaped container
and is called
oval shape electromagnet
owing to its special half-round structure. As chute dimensions in various steel companies are different, the following sample is just for your reference. And we can make the specific one as per your requirement.



Complete set of Lifting Electromagnet including:

-Lifting Electromagnet
-Control Cabinet (Rectifier Cabinet or Battery Back-up Cabinet)
-Cable Reel (with cable)
-Cable Connector
Lifting material: cast ingot, steel scraps, steel ball, steel billets


Wide use in steel plants, melting plant, waste warehouse, billet processing workshop


High working efficiency, safe and reliable operation


Perfect performance, low maintenance


This crane mainly consists of strong bridge beams, crane travelling mechanism, electric trolley and electric system and magnetic disk system, and could be classified into several working duties, e.g. A5, A6, A7, according to the working frequency and pure working time
It is special magnetic pole is suitable for round coil with different diameters; selection of electromagnet depends on the length of round coil. If the electromagnet is long enough at a time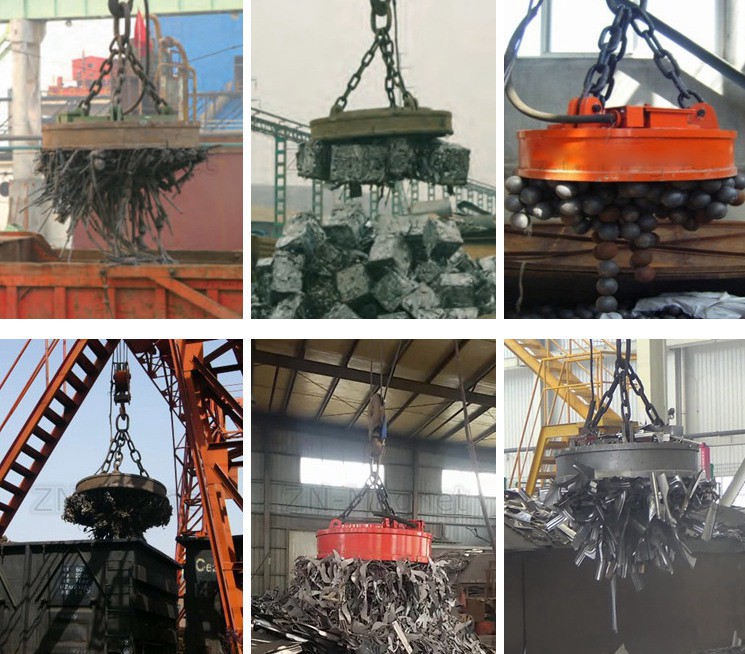 QC Model Electromagnetic EOT Crane

Lifting Capacity

T

5t

10t

16t

Working Duty

A6

Span

m

7.5~31.5m

Max. Lifting Height

m

16

16

16

Electromagnetic disk

Type

MW1-6

MW1-16

MW1-16

MW1-16

Suck weight

kg

4540

3330

8330

14330

Dead weight

460

1670

1670

1670

Diameter

mm

776

1180

1180

1180

Lifting Capacity

T

16/3.2

20/5

32/5

Electromagnetic disk

Type

MW5-165L6

MW5-180L

MW5-210L

Suck weight

kg

12500

14500

21000

Dead weight

3200

4230

7000

Diameter

mm

1650

1800

21000

Lifting Capacity

T

50/10

Electromagnetic disk

Type

MW5-90L

Suck weight

kg

4200

Dead weight

800

Diameter

mm

900

Steel track recommended

QU70

Power Supply

By your country 3phs voltage
Get Price And Support
Simply complete the form below, click submit, you will get the price list and a representative will contact you within one business day. Please also feel free to contact us by email or phone.