QDY Double Girder Overhead Crane Ladle Crane for Steel Making Factory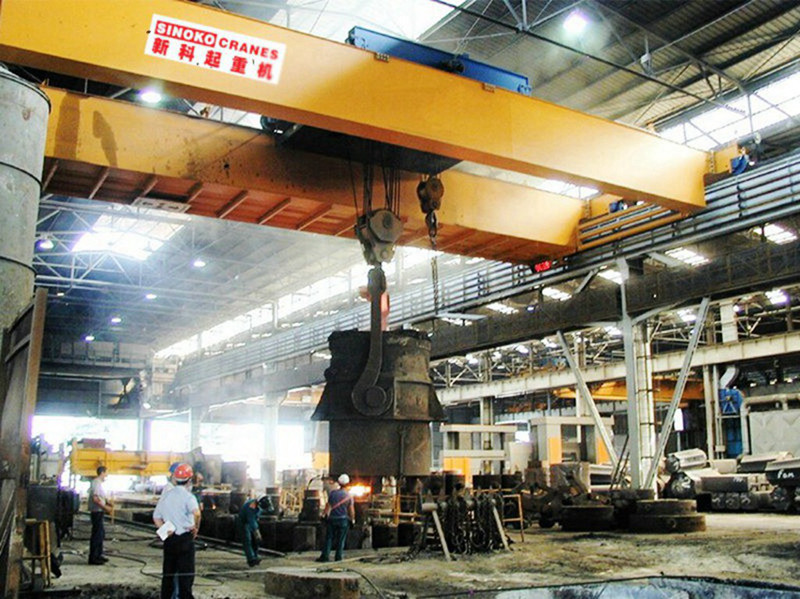 QDY Double Girder Overhead Crane Ladle Crane for Steel Making Factory
The ladle handling crane transports ladles filled with molten iron to the basic oxygen furnace (BOF), or molten steel from the BOF and electric arc furnace to the continuous casting machine. It can also be used for teeming and casting. As with the charging crane, safety and reliability come first with this crane since it is used to transport molten stee.
We're here to help
Easy ways to get the answers you need.
Contact Now
Brief introduction of double girder overhead ladle crane

QDY&YZ model bridge foundry cranes with hook mainly consists of main beam, hook trolley, crane traveling mechanism, cabin and electric controlling system, etc. Foundry crane is one of the main equipment in the continuous casting technology of steel making. It is mainly used transfer the pouring melted iron to the appointed place, and the thermal-protective coating is added at the bottom of the main girder. The place where molten nonmetal material and red-hot solid metal is lifted. The casting overhead crane are heavy duty for 20-24hours working.
Following demands as optional for the QDY and YZ type Casting Double Girder Overhead Crane:


1. Capacity: 5t-500t




2. Span: 5-40m




3. Working Class: A7-A8 (FEM 4m-5m)




4. Control Method: Remote and Cabin Control




5. Power Source and Painting Color as your demands


6. According to your other demands.

Crane detail showing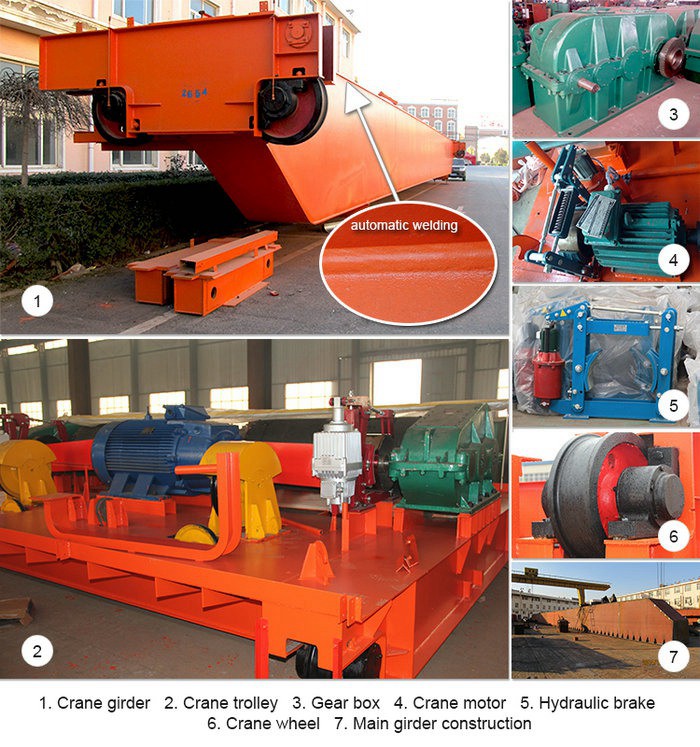 Strong drum & Trolley showing

Safety features
·
Top quality long time bearing polyurethane materials buffer
·
Crane traveling and cross limit switch
·
Voltage lower protection function, reduce energy consumption
·
Main lifting motor with thermal protection
·
Sub-assembly characteristic are tested before assembly
·
Emergency stop system, current over-load protection system, Excellent exchangeability for parts and components
Lifting Capacity
T
125/32
140/32
160/32
180/50
200/50
225/65
240/80
280/80
320/80
Span
m
19
19
27
28.5
28
27
22
22
24.5
Speed
Main Hook
m/min
7.8
9.8
7.5
6
11
7
12
7.5
7.6
Aux. Hook
9.7
12
10
10
11
9.6
10
10
9.7
Main Trolley
36
43.5
40
41
41
35
40
29
38
Aux. Trolley
37.5
43.5
38
38
39.5
38
40
39
39
Traveling of Crane
73
84
80
78
84
80
80
58
76
Max wheel pressure
KN
505
535
485
525
530
550
545
735
750
Steel track recommended
QU120
Operational Model
Cabin; remote control
Working class
A7 or A8 ;FEM 4m
Power Supply
Three-phase A.C. 380V, 50Hz or your requirement
Get Price And Support
Simply complete the form below, click submit, you will get the price list and a representative will contact you within one business day. Please also feel free to contact us by email or phone.